What's better than sliced bread you ask?

I'll tell you - Jeans that absolutely, positively, fit!!!

Women, and even men are always on the hunt for a great fitting pair of jeans , sometimes it like digging for gold. You hunt, you try on many different styles, washes, fits and when you find a pair, its like hitting the jackpot! There is absolutely nothing better than a great fitting pair of jeans.

So here at Fashion Revolutionaire, we are going to take a shot at helping you find a great fitting pair, for your body type.
First you have to identify your body type, now of course you may have characteristics of more than one body type, but select the one that is MOST like your body type
Pear Shapes:
If you have rounded hips and ample backyard, with narrow shoulders and a small bust. More than likely you fit this category. You tend to gain weight in your rump and thighs, unfortunately you are your prone to those damn saddlebags, however you typically have a relatively flat stomach and your waists are small. Your main goal is to make your body look proportionate in your clothes.
Revolutionaires Do's for Pear Shapes
Boot Cut and flared jeans - gives the appearance of a long lean look
Dark washes
Denim with stretch - will give more comfort and room
If you have a bit more tummy than you would like- look for higher waist styles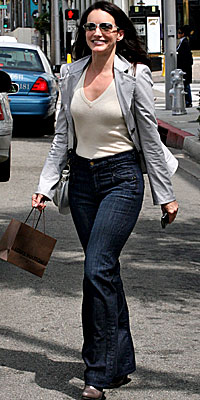 Kristin Davis is a pear shape, and this is a great DO picture. The high waist jean, in dark denim, with wide legs, balances her shape out perfectly.

Pear Dont's

Avoid the dreaded "muffin top" at all cost - make sure that the waist band does not cut into your hips

Say no to embillishments on back pockets

So no to jeans that are tapered at the ankle

and say HELL NO to Skinny and Fitted Jeans - reason being, those 2 styles will fit tight at your hips, thighs, and rump.

Apple shapes:


Typically known as the "top heavy" body type. Where most of the weight is carried in the upper half of your body, you are fuller in the bust, waist and upper back. Your lower half tends to be more narrow - smaller thighs, long lean legs.. and a flatter rump. Your goal is to demphasize your waist, make your hips appear wider, and your rump curvier.

Sherri Shepherd is a perfect example of an Apple body shape (and she's usually all the way wrong with her clothing choices - however not jeans, she did okay in this pcture)
Apple Do's
Embellishments and details on the pocket are a must for you - it creates a distraction below the torso
Higher waist styles - remember we are always trying to avoid the muffin top.
Skinny jeans - high waist skinny styles are perfect the accentuate your long legs, and demphasize your waist.
Apple Dont's
AVOID low rise and ultra low jeans at all costs!!!!!!!!
Baggy jeans - they just do nothing for your figure.
Avoid very fitted tops with tight or fitted jeans.. now you know that just sounds wrong, so imagine what it looks like.
so did that peak your interest a little bit? Did it help anyone? I know some of you are like DANG they didnt discuss my body shape!! Hold your horses Revolutionaire - stay tuned for part 2!!!!